The latest plan focussed on enhance observation systems and long-term data to understand and address climate change was adopted by the UNFCCC's scientific and technological advisory body at COP27 last week [12 November, 2022].
The 2022 Global Climate Observing System implementation plan (GCOS-244) outlines the practical actions needed – and gaps to be addressed – over the coming decade to provide the actionable climate information for mitigation, early warning systems to help tackle the climate crisis, as well as information provide information relating to the risks and attribution of extreme events.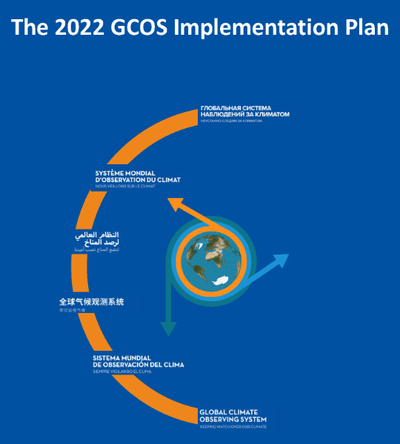 GCOS comprises expert panels which define a total of 55 which Essential Climate Variables needed to understand the climate system. Data for these ECVs helps to support the UNFCCC, with satellites providing observations for around two-thirds. Space-based Earth observation is singled out in the plan for its important contribution to monitoring many key aspects of climate.
ESA's Climate Change Initiative, is perhaps the largest single programme dedicated to generating long term satellite-derived climate observation records to meet the requirements specified by GCOS. By exploiting the Earth observation archive collected by ESA and its Member States over the past five decades, the CCI research and development activities has developed the retrieval algorithms, processing systems and data records for over 20 GCOS-defined Essential Climate Variables.
These robust, long term and global data provide the observation record to understand the evolution of the climate and have provided a major contribution to sixth scientific assessment of the state of the climate by the IPCC. These data have, for example, detailed the accumulation of atmospheric greenhouse gases, the acceleration of ice mass loss across the cryosphere over recent decades and the resulting increase in global mean sea level.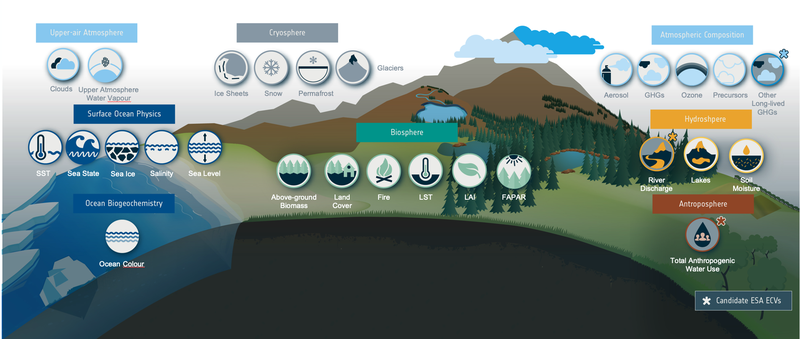 Moving forward, the GCOS plan places an emphasis on ensuring continuity and expanding ECVs; filling data gaps; and improving data quality and availability. The need to engage with national bodies to connect regionally and globally and to also meet evolving user needs are laid out in the plan.
ESA's future climate programme
ESA's Climate Office uses the requirements laid out by GCOS to steer future activity. Many of Implementation plan's themes are reflected in ESA's new climate programme, CLIMATE-SPACE, subject to approval at ESA's Ministerial Council Conference, taking place from 22 to 23 November 2022. Set to run from 2023 to 2029, the new programme proposes a continued focus on, and expansion, of data record production to support Essential Climate Variables, which may include Anthropogenic Water Usage – the most recent latest variable defined and required by GCOS. In addition, CLIMATE-SPACE will directly support implementation and tracking of the UNFCCC Paris Agreement at a global and national level, work closely to meet the research needs of climate services, and the climate modelling community and address major scientific questions, such as improving understanding of how and when future tipping points may occur.